We had to say good-bye to our first hunting dog on Jan 2, 2009 at 12.5 years old.
Oakley, AKA:
Ch, Int'l Ch Alison's Jagerherz CD NA NAJ
NAVDHA NA, UPT, UT 200 Prz II
Mom to 10 great pups: 5 NAVHDA NA Pups, 2 UT Prize 1 dogs and one when on to be the only GWP NAVHDA VC and AKC bench Champion.
At Home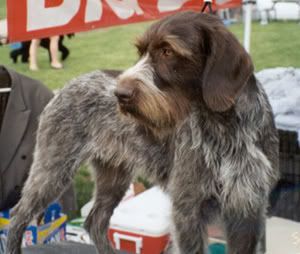 Getting ready to show: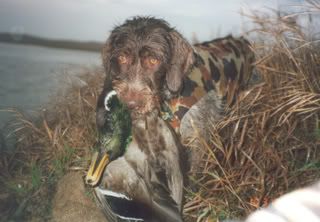 Duck hunting.
No pics in the field since there were always bad - she's always under a tree fallen tree, or in cattails above her head, or in corn, or just a blur. We even had a professional photographer come with once, that's where we got the blur...she found pheasants in a horse pasture on the edge of Minneapolis where no wild birds should have been. We always ran her last since she would find anything out there, mopping up the birds the other dogs missed wherever they may be. Best cripple dog ever.
She taught me why people hunt - she usually chose to hunt with me even when it would have been more fun for her to be by over Mark. She was a great little GWP.
Deb