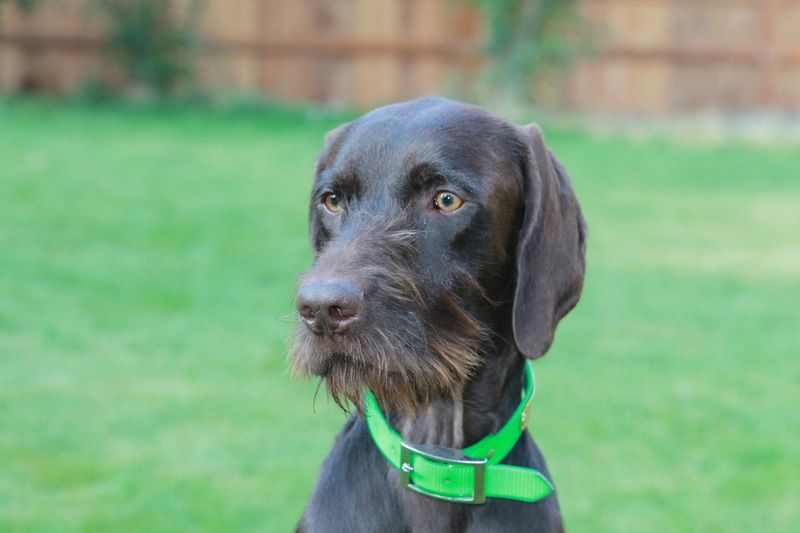 Well Tall Timber's Ranger finally went through his NA test yesterday. While I had a really good feeling that he would do well, the days before the test I started to wonder if I was a little blind to faults as everyone tends to be when they love their dogs. By the time Saturday night rolled around, I barely slept.
When I walked down to the barn Sunday morning I saw the run list and noticed we were first. It made me really nervous at first since it was the first time I had ever tested a dog and I was hoping to observe a few first. However, the more I though about it I realized that I would get the field portion over with right away and then could relax until the tracking portion. Plus, the conditions were ideal. There was some lifting fog that left the grass nice and wet and the morning was cool. Also the judges were great at explaining the process and helped me feel at ease.
We started across the field with the gunner, 3 judges and 2 apprentices. It felt like a parade and hoped Ranger wouldn't be too distracted. Turns out he barely knew we were there.
We came across the field and Ranger soon pointed his first chukar. He waited until I came an flushed it for him. I was starting to get pumped. By the time he pointed the 4th bird the judges said they had seen enough and asked me to leash him, but by that time he was shooting across the field and was on point again. He was right on top of that 5th bird and it flushed before I got to him. As we walked back I was feeling confident that he had done well in that portion. It made it easier to wait a few hours until the track.
When we went to the tracking portion I was surprised with 2 things. First we were using hens instead of roosters. Not a big deal to me, but I thought it was standard to use roosters. Second, we were not in a field. We were on the edge of a forest in an area where the black berries and scotch broom had been mowed down. There was very little grass and what was there was very short. It was not what I had imagined at all. Anyway, we were first up and the wheels completely fell apart. Ranger headed down the track a few feet, and then the wind picked up behind us and he whipped around and ran to the atv where the rest of the pheasants were about 40 yards behind us. He came back around, but never really got on the track again. I was doing my best not to be frustrated, but I knew it wasn't good. After about 15 minutes the judges informed me that we would to a re-run. I'm assuming it was due to the proximity of the remaining pheasants, but I really don't know for sure. I should have asked them later, but I honestly just forgot.
So I got back in line and waited to run again. This time the area was similar but slightly better. The pheasant had run through a little clearing and stopped in the black berry briers. Ranger started down the track, but lost it and circled behind me again. I thought it was falling apart again. I wasn't completely panicking, but I really didn't want to lose a chance at prizing because of a 0 in tracking. I waited patiently, and Ranger came back around and started down the track. He might not of followed it perfectly, but he got back on it and soon was pointing the hen. After a few seconds the hen flushed (or tried) and ran deeper into the briers. Ranger followed, tracked until a point and then chased the hen around. The judges asked me to call him out, but he wouldn't come and I wasn't about to get into that tangle of thorns. Finally, he chased the pheasant out of the black berries and caught it. He was happy to finally have a bird in his mouth. I was much happier with this outcome, but really didn't know what his score would be. He definitely lost the track at least once.
Next came the water. I was very confident in this part, but wasn't going to take anything for granted. It went fine as he was happy to cool off and fetch a couple bumpers.
It was over. What was done can't be changed and I tried to just enjoy the other dogs water work and not think about his possible score. After a long couple hours, we were finally waiting in the shade as the judges read the scores. Ranger ended up with a 3 in tracking and 4's in the rest giving him a 110 Prize 1. I couldn't hide a huge goofy grin. I was very happy with that score!
There were 8 other dogs that were tested and if I remember correctly all prized except one. 2 or 3 had maximum scores one of them being a great German Longhair another a really nice looking Germain Wirehair. I'm pretty sure a shorthair also got a max score. Another PP got a prize one and 2 got prize two's.
Leading up to the test everyone said that the people would be friendly, helpful, fun and it would be a really good time. They were certainly right. I really enjoyed the volunteers, other handlers and the judges were beyond helpful and encouraging. The Willamette Valley chapter really has some great people and some great dogs. And lastly, thanks for all the great advice I got on this site!